Books
Love, Loss, and What I Wore
Ilene Beckerman's runaway bestseller articulates something all women know: that our memories are often tied to our favorite clothes. From her Brownie uniform to her Pucci knockoff to her black strapless Rita Hayworth–style dress from the Neiman Marcus outlet store, Ilene Beckerman tells us the story of her life.
This book has been adapted for the stage by Nora and Delia Ephron. The star-studded Off-Broadway show is receiving rave reviews with shows continuing in New York, and now Chicago.
Reviews
"Illuminates the experience of an entire generation of women. . . . This small gem of a book is worthy of a Tiffany box."—The New York Times Book Review
"A memoir every reader will wish to copy in her own size."—Glamour
"Ilene Beckerman's sleek little memoir . . . strikes a startling chord. . . . Unsettling and oddly powerful."—People
"Surprisingly poetic."—Entertainment Weekly
"[A] poignant biography. . . . This little book will charm anyone with an interest in style."—USA Today
Book Details
Paperback, 144 pages (also eBook)
ISBN: 9781565124752 (1565124758)
Published by Algonquin Books
$10.95(US)
Purchase
IndieBound
Workman.com
Amazon.com
Barnes & Noble
Powell's Books
The Play!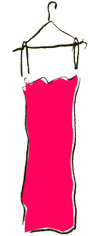 Proving that a great show is always in fashion, Love, Loss, and What I Wore, with its starry rotating cast and compulsively entertaining subject matter, has become the toast of Off-Broadway. This intimate collection of stories by Nora Ephron and Delia Ephron and directed by Karen Carpenter, is about to enter its second smash year at New York's Westside Theatre. Produced by Daryl Roth, Love, Loss, and What I Wore is based on the best-seller by Ilene Beckerman, as well as on the recollections of the Ephrons' friends. Like the popular book, the show uses clothing and accessories and the memories they trigger to tell funny and often poignant stories that all women can relate to, creating one of the most enduring theatergoing experiences in New York. "Enthralling! You'll have such a good time," raves WOR's Joan Hamburg, while syndicated columnist Liz Smith simply states, "This is an evening that goes directly to the heart, soul and vanity of every woman, young or old."
Find out more: Visit the Official Site for the Play.